Keels/Lead Lingots and Lead Bulbs
Keels/Lead Lingots and Lead Bulbs
Lead's outstanding performance in boating.
Lead is a highly pursued metal. It's considered a "strategic metal" because it's extremely heavy. It's physical properties have a density fo 11.35 compared to 7.8 for steel and 7.4 for cast iron. This high density allows for:
Reduced draught, thanks to it's lower center of gravity.
Higher density for a small surface
The advantage of lead is that it doesn't oxidize or rust, which makes it the most widely used metal in boating.
Lead bulb machinery : For specific needs we can produce your bulbs/lingots in lead. We're capable of mass manufacturing techniques. Our manufacturing methods allow us to offer competitive pricing as well as short and timely production times.

NAVYLEST ENTERPRISE specializes in the production of lead keels and lead bulbs.
Our Foundry produces lead lingots for competition sailboats.
Using precise blueprints, we produce the polystyrene models, frames and lingots in lead with incorporated stainless steel stems.
We fill the hollow keels either with aluminum or lead to the desired and exact weight.
We provide and produce the lingots as well as counterweights for all nautical uses.
Our lead foundry will offer you the best price and quality in the sector; in a timely fashion.
TREATING THE SURFACE. : Our lead foundry can also treat the surfaces of our realizations (paint). Our treatments can be applied to our productions in lead; bulbs and keels.
If you need a bi-metal keel, iron/lead bulb, our foundry will find solutions for you. Our lead foundry can also treat the surface of your keel following the established international guidelines.
We can manufacture bulbs with machinery to obtain the best results for your competition racing needs.
We can treat the surface following international guidelines and prepare it for anti-fouling treatments.
We can also repair damaged keels and bulbs.

Production of keels in stainless steel and cast iron.
Our metal works in our lead foundry allow us to produce any type of keel: stainless steel, steel (carbon), aluminum.
We can also produce your keels with lead bulbs; making lingots that are ready to be installed (with an epoxy finish and surface treatment).
Our excellent contact with our suppliers in cast iron allow us to produce keels in cast iron according to your needs at a competitive price.
We can also produce keels that are mechanically welded.
Repairing bulbs and keels
We specialize in repairing lead bulbs for sailboats.
We can repair bulbs up to 15.25 tons as well as renew the edges of the shape that has been stripped or damaged.
We can straighten warped, twisted and buckled bulbs by recreating the damaged or missing pieces.
For stainless steel anchorage systems, we can replace the steel stems when they are broken, twisted or missing
In cases of accidents we're happy to give you a solution for your repair needs.
We have repaired lead keel anchorage systems for FEELING.The internet site CLUB FEELING allows us to exchange with members whose lead keels have been damaged; helping them to create new lead keels that will enable them to navigate.

The advantage of our lead foundry is that we propose polystyrene models which cost less than the formerly used wooden casts. Our quality polystyrene casts allow us to create cement molds that can be reused in the production of 30 lead pieces. This casting technique allows us to reduce the cost of ballasts, bulbs and keels made from lead.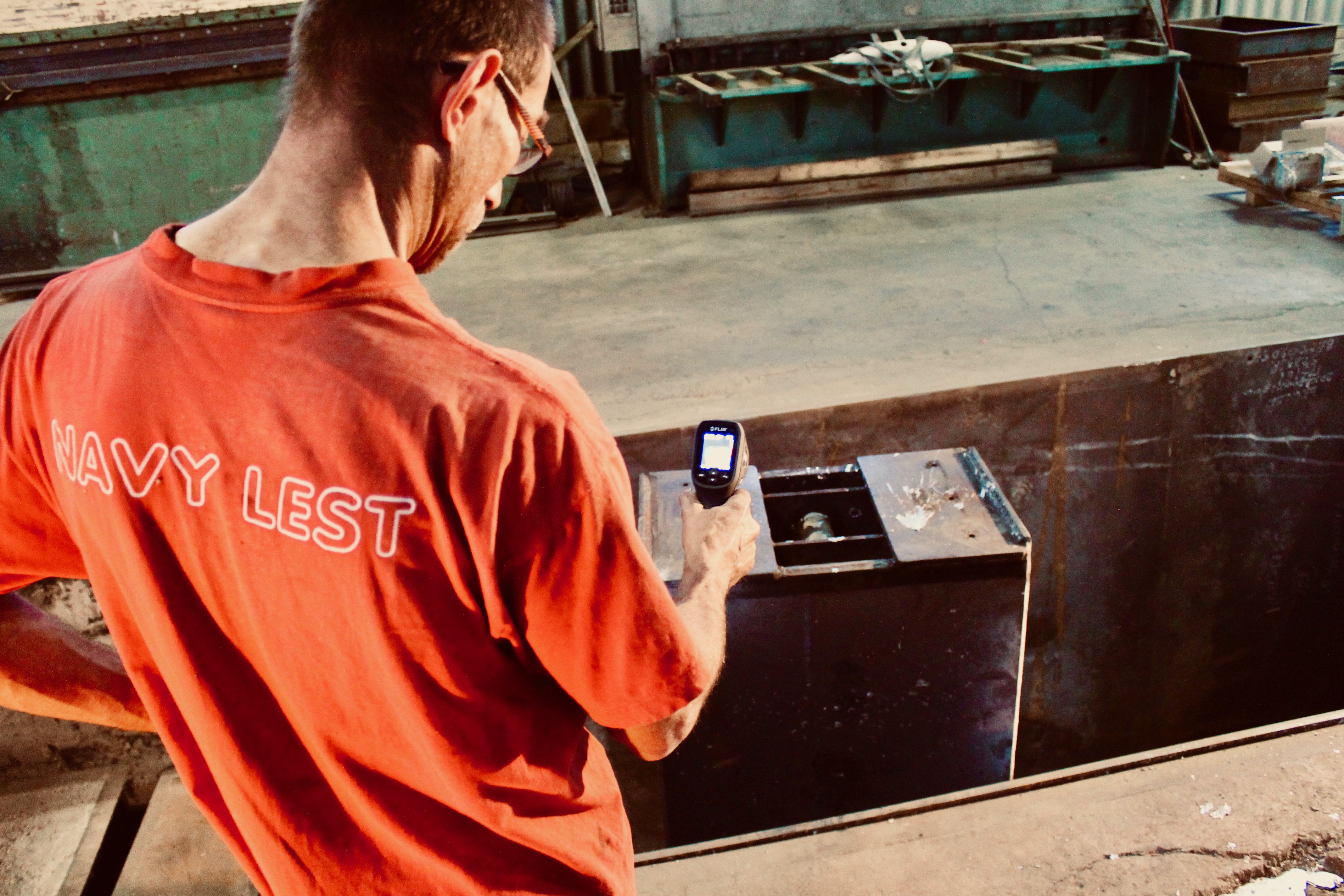 CERTIFIED MATERIALS
At your request, we will provide you with the certification that the materials used in manufacturing contain the required details from your blueprints. For example bolts, threaded rods, lead or steel materials.
QUALITY
Due to our many years of experience, NAVYLEST Foundry is synonymous with quality. To insure our reputation for quality we perform several tests regularly during the different production steps.
Visual examination of each piece is performed and a dimensional test can also be performed to insure the quality of each piece.

For your mass production needs, we can produce cast iron casts that produce anywhere from 2 to 600 pieces.
We can also produce your lead keels molded with a cast iron coating.

Concrete casts for ballasts produce up to 20 pieces.
The frames for our concrete casts are made by our steel works team within our lead foundry.
Our concrete casts give us the possibility to produce single bulbs as well as a series at low and competitive prices.

At NAVYLEST, we understand that time is money and it's an essential part of production. For this reason, our transporters allow us to deliver anywhere in France as well as overseas. We are able to load and unload up to 35 tons.
We take every necessary precaution to insure that your lead keels arrive at your doorstep intact and in a timely fashion.
For all your needs, our team of specialists will guide you in the creation of your projects
for guaranteed satisfaction.